Serving Houston & Surrounding Areas Since 1982
Residential Services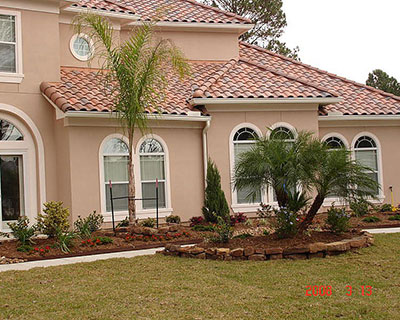 We at Baytown Landscaping & Construction are a leading company in the field that provides excellent landscape design and build solutions. We are highly focused in our approach and make sure that we exceed customer expectations in every job we take up.
Our team of experts has completed a significant number of projects in and around Alvin, Channelview, Clear Lake, and Conroe. Over the years, we have also catered to clients throughout Dayton, Deer Park, and Galena Park. Our work is appreciated by clients in Atascocita, Highlands, Huffman, Humble, and the surrounding areas as well. The range of residential services we offer includes:
Landscape Design & Build
We provide customized landscape design and construction solutions. As part of these services we handle everything from hardscaping and softscaping design and planning to the actual installation of all these features. Our team can design and plan patios and decks, driveways, walkways and pathways. We handle paver installation to perfection and build specially engineered retaining walls as well.
While handling these projects, we use the best quality materials and top-notch workmanship, which go a long way in ensuring the longevity and resilience of your outdoor spaces. Since we adopt a customized approach, you have the assurance that your outdoor areas will be in sync with your specific requirements. Read More About Landscape Design & Build >>
Landscape Maintenance
While the design and installation of the landscape needs to be done well, it is even more important to make sure that all of the outdoor spaces are maintained with regularity. This regular attention can help keep the hardscapes and softscapes on your residential landscape in the best condition.
As a company that has been operating in this industry for a number of years, we have the resources, experience, and knowledge to provide customized landscape maintenance plans to our clients. We ensure that all the features are maintained well and that they look spruced-up at all times. Not only does this allow you to enjoy your yard, but it also increases the overall value and appeal off your property. Read More About Landscape Maintenance >>
Irrigation
The right type of irrigation is very important regardless of the size of your landscape. If you have plants, trees and lawns on your property, they would require watering at the right times and schedules. When we are designing your landscape, we also include comprehensive irrigation designs and plans that cater to the specific needs of your outdoor spaces.
We use high-quality irrigation products like automatic sprinklers, drip irrigation systems and more. If required, we also install rain sensors which improve the water-efficiency of your residential irrigation system. Our team has the expertise to handle these projects in line with your specific requirements and budget. Read More About Irrigation >>
Hardscaping
Hardscapes are a very important aspect of your residential landscape. The masonry elements provide support to various other features that would be installed there. We offer customized hardscape design and installation services. As part of theses olutions, we can provide patio and decks, driveways, walkways, pathways, retaining walls and more.
We also handle fireplace and fire pit installations as well as the design and planning of curbing and edging or seating walls. We use materials such as concrete, pavers, natural stone and brick in hardscape installation. Their use of the best quality materials and expert workmanship helps ensure that you get hardscapes which are resilient, durable and easy to maintain. Read More About Hardscaping >>
Outdoor Living
The outdoor spaces of your property can provide a good return on investment if they are designed and planned well. As a full-service landscape company, we provide excellent outdoor living solutions and can design and plan patios, decks, poolscapes and more. Our team of experts also provides excellent fireplace and fire pit design and can plan rock waterfalls, ponds or streams as well.
When we are designing these spaces care will be taken to ensure that their styling and design concepts are in line with your needs and complement the overall look of your landscape and the exterior of your home. We also focus on aspects such as durability, functionality, and ease of maintenance. Read More About Outdoor Living >>
Outdoor Lighting
Having beautiful outdoor spaces is a lot about ensuring that you also get the right kind of exterior lighting installed. That is the only way you would be able to use the yard areas in an optimal way even after dark. As part of our overall landscape design and planning solutions, we offer excellent outdoor lighting services.
We can provide installation of features such as paver lights, underwater lighting, patio and deck lights, as well as retaining walls and boundary wall lights. We use energy efficient outdoor lighting fixtures in our work which helps reduce your energy bills as well as your landscape maintenance costs. Read More About Outdoor Lighting >>
Water Features
Installing water features in the outdoor areas of your home is one of the best ways to make sure that these spaces have a well-balanced appearance. We provide customized water feature design and installation services. Our team can plan water features such as ponds, waterfalls, fountains as well as streams etc.
The design and styling of these water features will complement the look of other elements in the landscape. We use good quality materials and make sure that the installation is completed expertly. This helps create fountains and ponds that look great are durable and will be easy to maintain. Read More About Water Features >>
Tree Services
The trees on your property add to its beauty. They lend shade, help improve the quality of air in your immediate surroundings and improve the appeal of your home. Tree maintenance is a very important aspect of any landscape care plan. We provide excellent tree services which include tree trimming and pruning, tree removal, stump grinding, pest control and more.
The tree services that we provide for you would be customized based on the types of trees that you have on your property. Fruiting and flowering trees, as well as annuals and perennials, require specific care. We have the ability to tailor our solutions based on all these aspects. Read More About Tree Services >>
If you are looking for customized landscape design and installation services, you are at the right place. For any more information related to our services, or to discuss your project details, feel free to contact Baytown Landscaping & Construction at this number- 281-851-8684. You can also send us these details through this Contact Us form and we will revert within the shortest possible time.
We Provide Service to the Following Areas: